2014 Volume of The World's Water

The World's Water, Vol. 8, released January 2014, is the latest volume of the biennial report that has delivered key data and expert insights into our most pressing freshwater issues for more than a decade. The series has provided the most thoughtful, comprehensive, and interesting coverage of the available knowledge and the analysis needed to deal with the challenges facing a sustainable, safe, equitable water supply for everyone.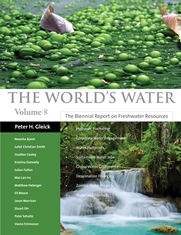 The new volume delivers analysis on international conflicts over water,  the water footprint, water funding, sustainable water jobs, water governance, and more, including:
The business case for sustainable water management;
Key issues for desalination;
Hydraulic fracturing and water resources;
"Zombie water projects"  – infrastructure proposals that are killed off and brought back to life despite social, political, environmental, or economic flaws;
Data on access to improved water and sanitation by country, renewable freshwater supply, assessment of water quality satisfaction, cholera outbreaks caused by lack of access to safe water, and more.
Several chapters, "Water Briefs," and data tables from The World's Water series, including the new volume, are available for free download at our Water Data tab.
Available from Island Press or Amazon, The World's Water, Vol. 8 is an invaluable resource for community leaders, health officials, academics, students, and others whose work touches on freshwater.
Media highlights from the previous volume, The World's Water, Vol. 7:
Peter Gleick discusses:
– peak water;
– population and sustainable water; and
– climate change and the water cycle.
Watch Peter Gleick's 2011 presentation onThe World's Water Volume 7 at the Woodrow Wilson Center. 
Listen to Peter Gleick talk about potential risks from coal seam gas mining.
EOS, newspaper of the American Geophysical Union, covers The World's Water: "Meeting Basic Human Needs for Water Presents Huge Challenge, Expert Says."
This site complements the series The World's Water: The Biennial Report on Freshwater Resources.
Order the book here.
(Individuals or companies may also contact the Chicago Distribution Center directly at 800.621.2736, by fax at 800.621.8476, or by email.)
View selected chapters and data tables from The World's Water Vol. 7.